Tributosaurus Becomes Michael Jackson THE VIC MAY 12TH, 2012
Don't Stop Til You Get Enough
Mscott, Horns, Strings, SynBass+RegBass
Off the Wall
Marqueal, Horns
Beat It
Isiah
I Can't Help It
Mspee, Strings, SynBass
Working Day And Night
Michael, Horns, SynBass
Smooth Criminal
CNev, Synth Bass
Man In The Mirror
Isiah/Marqueal, SynBass
I Wanna Be Where You Are
Cheryl, Horns, Strings
Rock With You
Michael, Horns, Strings
Burn This Disco Out
Isiah, Horns
She's Out Of My Life
Mspee, Strings
P.Y.T.
Isiah, SynBass
Thriller
Marqueal, SynBass, Vincent Price Rap Sampled CNev Keys
Human Nature
Cnev (Center), SynBass
Billie Jean
Isiah, Strings, SynBass+RegBass
The Lady in My Life
MScott
Black or White
Marqueal, Mspee Rap, Ac Gtr, SynBass
Wanna Be Startin' Somethin'
Marqueal, Horns, SynBass+RegBass
GUESTS :
Michael Scott - Vocals
Marqueal Jordan - Vocals
Isiah Mitchell - Vocals
Cheryl Wilson - Vocals
Ingrid Graudins - Vocals
Scott Stevenson - Keys
Rick Gehrenbeck - Keys
Christian Cullen - Keys
Richie Davis - Gtr
Kalyan Pathak - Percussion
The Paleolithic Horns - 8 Strong!
The Tributosaurus Strings - 4 Strong!
---
NEXT SATURDAY, MAY 12th at THE VIC THEATRE:
Tributosaurus Becomes Michael Jackson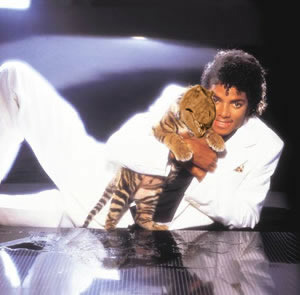 Join us next week as Tributosaurus becomes Michael Jackson! This was one of the biggest shows we ever did, and still one of the most requested reduxes - well here's your chance.  Not only that, you can come and see it at the fabulous Vic Theatre!
The assemblage of singers, horn players, string players, keyboardists, guitarists, and percussionists is absurd. It's a 28 person band, with the finest musicians in town brimming with anticipation to kick the hell out of this music.
If you order tickets online, there is a surcharge, but you can avoid this by going to the Vic Theatre box office and getting your tickets there - and we don't see any of that money, so we'd rather see you save it!  Either way, don't miss your chance to see this amazing show - it'll be a while before we do it again.
Tributosaurus Becomes MICHAEL JACKSON
at the Vic Theatre - 3145 N Sheffield Ave. - Chicago
Saturday May 12th - 8 PM - 1 SHOW ONLY
Tickets available >>ONLINE<<
or, purchase at the Vic box Office to avoid online fees!