Tributosaurus X #11 : Genesis / Peter Gabriel
at Martyrs' - 6/6/12 - 2 SHOWS
Dodo/Lurker
MS Vox (Dodo) / CN Vox (Lurker)
I Know What I Like
MS/CN co-lead  (CN spoken at top)
Squonk
Dag Vox
Ripples
MS Vox / Ac Gtr & 12-String
The Rhythm of Heat
CN Vox / CN Aux to Drum Wedge
Red Rain
MS Vox
Games Without Frontiers
MS Vox / CN Aux to Drum Wedge
Throwing It All Away
CN Lead
Carpet Crawlers
MS Lead
No Reply At All
MS Lead / Horns
For Absent Friends
CN Lead
Solisbury Hill
MS Lead / 12-String & Ac Gtr
Here Comes the Flood
CN Lead
Shaking the Tree
CN & Ingrid Lead
Turn It On Again
Dag Lead
Abacab
CN Lead
The Lamb Lies Down on Broadway
MS Lead



GUESTS :


Dag Juhlin - Vocals, Gtr
Ingrid Graudins - Vocals
Ralph Beerhorst - Keys
Tom McCarthy - Gtr
Kalyan Pathak - Percussion
The Paleolithic Horns


---

 Tributosaurus X #11 : GENESIS/GABRIEL
T
HIS WEDNESDAY - 2 SHOWS

Join us at Martyrs' for a special hybrid Tributosaurus X show, as we become both Genesis and Peter Gabriel. 

When we first became Genesis in 2003, it was our first show that really felt like a rock concert. The music is so intricate, so powerful, and yet delicate as well; it demands and deserves scrutiny. We'll feature many songs from the full early lineup featuring both Gabriel and Phil Collins, as Genesis created some of the greatest progressive rock in existence. After Gabriel left, Collins moved up front from behind the drum kit. The band slowly evolved into enormous popularity, while the musicianship remained outstanding. We'll touch on Trick of The Tail, Abacab, and more. 

As for Gabriel's solo material, well, he's one of the most respected songwriters and sonic innovators of his era. He of course deserves his own night (done twice by us years ago), but we didn't want to miss a chance to shoehorn a few tunes in this month. It will predominantly be a Genesis night, but we'll pick our most beloved Gabriel as well.

Come exult in this amazing material with us, as we re-visit 2 of our favorite shows in 1 unique night.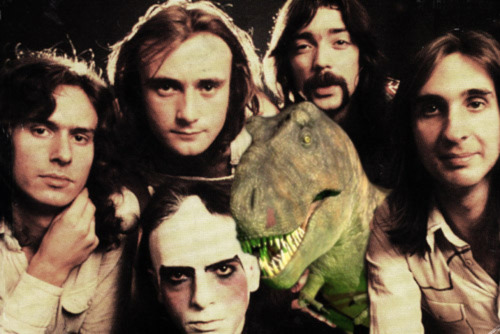 Tributosaurus Becomes GENESIS & PETER GABRIEL
Wednesday, June 6 - 2 Shows - 7PM & 10PM
at Martyrs' - 3855 N. Lincoln Ave. - Chicago
Tickets available at Martyrslive.com