Since 2002, Tributosaurus has been paying homage to a different artist once every month. Our goal is to exactly re-create the sounds of the original recordings as closely as possible, whatever that may entail. Consequently, the core members of the group have become incredibly adept at designing sounds, transcribing performances, recognizing and creating widely varied arrangements -- managing to do this with a completely new catalog of material every show. Every month we feature a wide array of guests, including horn sections, string sections, ethnic instruments and ensembles, multiple guitarists and keyboardists, and many singers both lead and supporting. This has put us in the unique position of having a direct line to the largest network of top-flight players in Chicago, all of whom know us and thankfully jump to work with us. Our musical community expands and grows closer, monthly. The Tributosaurus core has become the ultimate musical chameleon, able to jump from style to style, from ensemble to ensemble easily. We know and listen to each other attentively, which makes each of our live performances sound like a BAND, as opposed to a group of random assembled players. It's rock and roll, and it has to feel right. Of course, what really makes the project work is our great love and respect of the music. The material is treated with reverence, as an orchestra treats the classical canon. We love what we do, and we have more fun than ought to be legal every time we play.
Chris Neville - Keyboards, Vocals, Guitar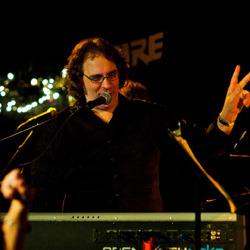 Chris functions as the Musical Director of Tributosaurus, and handles most of the vocal arrangements as well. While not wrangling huge ensembles or tech issues for each month's show, he operates a recording studio in Oak Park, just outside Chicago. He has played on many commercials and industrial films, as well as composing for film and for games. Chris has performed live with a slew of popular artists including Jim Peterik (Ides of March, Survivor), Van Ghost, Buddy Guy, Deion Peyton, Bo Bice, Mike Reno (Loverboy), Don Barnes (.38 Special), Martha Davis (The Motels), to name only a few. He has also performed on many albums with various artists like Robbie Fulks, David Avram, Lisa McClowry, and many more.
Curt Morrison - Guitars, Vocals, Harmonica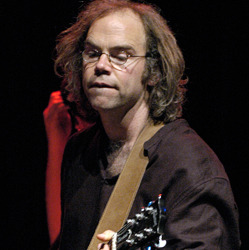 Curt has played on literally hundreds of television and radio commercials for McDonald's, Coors, Allstate, Burger KIng, State Farm, Toyota, etc. He has played guitar and many other instruments on children's television shows, including Jack's Big Music Show on Sprout, and Bunny Town on Disney channel. Also, Curt has played guitar on songs by Cher and David Cassidy. Curt also is a highly sought after educator, and maintains a successful private teaching practice.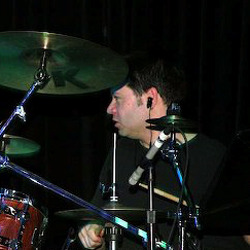 Dan has performed live or on recordings with such artists as Jazz trumpeter Randy Brecker, songwriters Jewel, Liz Phair, Peter Himmelman and Robbie Fulks, Poi Dog Pondering, Fareed Haque, Bluesman John Primer, and Liquid Soul. He also has played in the pit for several popular shows including Spamalot, Wicked, Aida, and currently Million Dollar Quartet. He's performed on television and radio jingles as well as arcade and video game soundtracks, and maintains a private teaching practice.