Tributosaurus is the Jurassic beast of multiple musical faces, and every month, the beast morphs into a different rock group. The finest musicians from Chicagoland join the core group to sit in…to sing and play songs they've wanted to cover all their lives.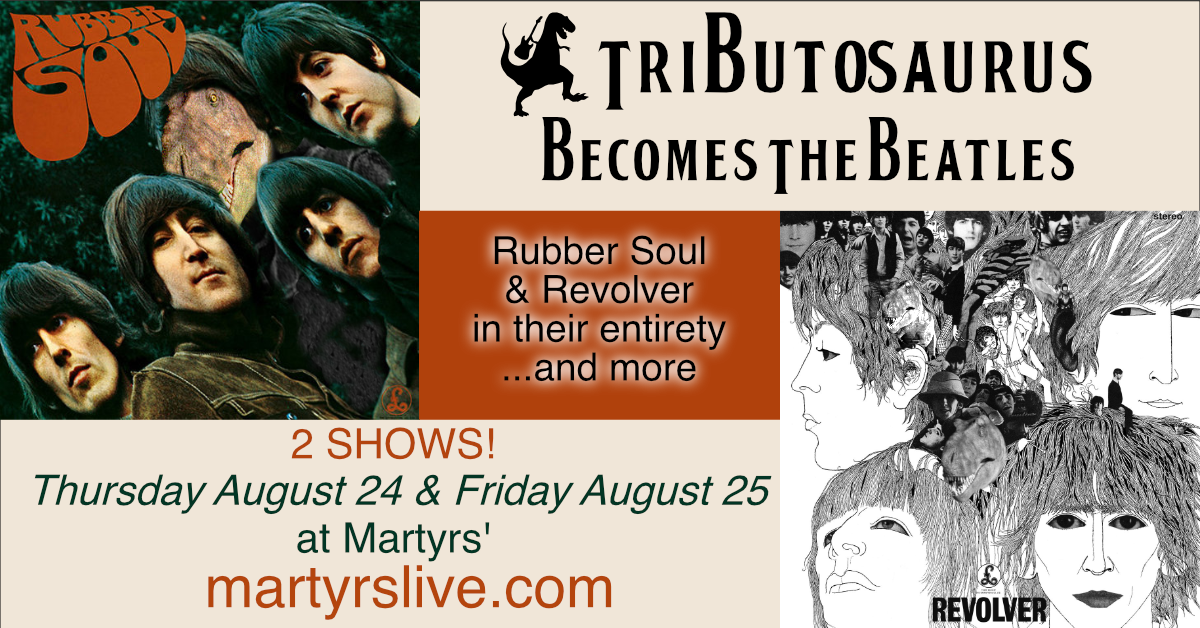 Rubber Soul and Revolver
Both albums performed in their entirety, with meticulous, faithful re-creations of all the original arrangements.

For anyone who may have missed it along the last 20 years, The Beatles presented a unique conundrum for us. How do you do one night of their music? Could one set list summarize and honor that legacy?
Nope. What we did is play every song they ever recorded, in chronological order. We started at the beginning, with the early singles, and eventually played Sgt Peppers and The White Album with a 30 piece orchestra. In December of 2014, we completed the project, playing all of Let It Be, though not on a rooftop. Maybe someday.
Now, we have the freedom to craft special shows, spanning the entire Beatles catalog.  With the recent release of the remixed Revolver as an incredible box set, our interest was piqued, as hopefully was yours.
On Rubber Soul, the songwriting of John and Paul reaches full bloom.  It's 1965, and for the first time the band records an album in one continuous period of time.  The result is a cohesive collection of brilliant songs influenced by R&B, pop, and soul.  "I've Just Seen A Face."  "Michelle."  "Norwegian Wood."  "In My Life."  

Perfection.

Revolver was an unparalleled musical achievement - it heralded the beginning of the psychedelic era, and represents a clear defined line in the Beatles development.  This is when things started to get a little trickier for Tributosaurus to recreate, with more interesting musical ensembles and instruments appearing.  A horn section for "Got To Get You Into My Life."  A sitar and Indian percussion for "Love You To."   Strings for "Eleanor Rigby."  An entire closet full of weird stuff from Abbey Road studios for "Yellow Submarine."
Remember, these are the UK releases, so the songs may not be on the albums you think, and the order might be a little different than you remember - but they're all there, plus a couple singles they released between.
Please join us as we redux this amazing show!
Tributosaurus Becomes THE BEATLES:
Rubber Soul & Revolver
2 SHOWS:  THURSDAY 8/24 & FRIDAY 8/25
Martyrs' - 3855 N Lincoln Ave, Chicago
Tickets at : Martyrslive.com