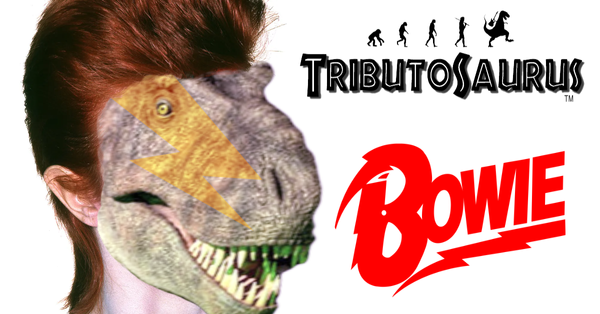 TICKETS GO ON SALE THURSDAY 9/23 at 11AM 
**LINKS BELOW** 
Tributosaurus gets to play 2 shows on Halloween weekend!  And when we gather with you for a triumphant return to the western suburbs, it has to feature the music of someone special. 
Join us on Halloween weekend, Friday 10/29 and Saturday 10/30, when Tributosaurus becomes David Bowie at Fitzgerald's in Berwyn.  We're thrilled to be back at Fitz; under new ownership that honors and respects the legacy of the venerable roadhouse.  If you're up for it, Fitzgeralds wants YOU to become Bowie too! There will be a David Bowie costume contest, and the best costume wins a $100 dollar gift card & a complimentary stay at FITZGERALDS Sleepover Castle! 😱☠️ 
We're pumped, because there's no one better to freak out with than the interstellar shape shifter himself.  Bowie was the foremost purveyor of Glam, an inventor of Plastic Soul, a dabbler in Electronica, and of course a Spider from Mars.  We'll touch on Ziggy, the Berlin Trilogy, the 80's superstardom, and some of his all-star collaborations.  You'll hear the songs you know and love, and a few deep cuts we'll mix in as well.  These shows will be an eclectic party, filled with the sound and vision that's been a part of your musical world for decades. 
A ceaseless creator, and a worldwide artistic icon, David Bowie was many things.  Tributosaurus will try to be as many of them as possible on Halloween weekend at Fitzgerald's. 
Tributosaurus Becomes David Bowie 
ON SALE THURSDAY 9/23 at 11AM 
Fri 10/29 & Sat 10/30 - Halloween Weekend - 9PM 
at FitzGerald's - 6615 W Roosevelt Rd, Berwyn IL 
Friday Tickets :  >>CLICK HERE<< 
Saturday Tickets :  >>CLICK HERE<<